As professional Mildura to Gold Coast Removalists, it is our foundation of knowledge & experience that gives us the ability to satisfy every clients requirements from start to finish, whether it is furniture removals, vehicle transport, your delicate piano or backloading removals.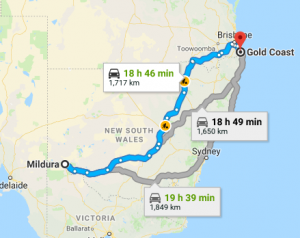 We understand that word of mouth is by far the most powerful advertising and marketing tool, and this is why we take pride in continually providing the best interstate furniture removalist services, to every client, at the best costs possible.
Mildura to Gold Coast Removalists Reviews:
I found United on the web, just by researching interstate removalists and backloading interstate from Mildura to Gold Coast. I was starting to get worried by the quotes I was receiving in which some topped over $5000. The quote from United was extremely competitive – the second best I had received (out of at least 12 companies) but the company who quoted better stated they could not confirm a pick up time, or drop off time or whether they could come at all. They were useless. United was a clear winner. The operations manager was amazing. I was initially so panicked with the whole ordeal of finding an interstate removalist, my original company had let me know only weeks before the move that they weren't coming at all to pick up and we were scheduled to leave – I had spoken to over a dozen companies.
It started to feel like no one could do this move but after speaking with United, I was assured the quote wouldn't change (not like other companies), your guys were so professional, polite and courteous, I was overwhelmed by how easy he was making this and how competitive the quote was – I didn't believe it to be honest, it seemed too good to be true. When I ended up being a bag over, he reassured me it was not a problem and did not even charge any extra. Staff were always courteous when contacting me and keeping me up to date throughout the few days of the move – what an effort as I know the driver was dealing with flooding and deadlines. The fellows who came and dropped off were great! So friendly, even whilst busy with the physical lifting and heat, the young fellow stopped to look at a picture my daughter had drawn for the 'removalists'.
– Samantha
Mildura to Gold Coast Removalists
Our Services