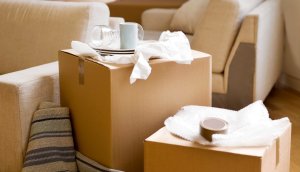 We can have our professional Furniture Packing Service team members come to your home on the day prior to the moving trucks arriving. They can arrange for the collection and packing of some, or all of your moving boxes for you. Simply ask our staff about our pre-packing services.
Pre-Packing is generally charged at a per box rate which includes the cost of all required packing materials and the labour to pack the boxes. A pre-packing rates schedule is below.
T-chest cartons = $20.00 each.
Book & wine cartons = $15.00 each.
Port-A-Robes = $25.00 each.
Picture cartons = $15.00 each.
Mattress wraps & lounge covers = $15.00 each.
If choosing to pack your items yourself, United Movers will kindly provide you with packing cartons and materials to assist you in getting organised for your upcoming move, whether it's interstae or local. This will also mean you are only utilising the safest, quality cartons when moving house. Simply ask your friendly United moving consultant and they will arrange this for you.
United Movers are happy to provide our Professional Furniture Packing Service for you; after all we are the packing experts. You will have peace of mind knowing that your personal effects are carefully protected using specialised packaging materials secured in purpose-designed cartons.