As professional Hobart to Townsville Removalists, it is our foundation of knowledge & experience that gives us the ability to satisfy every clients requirements from start to finish, whether it is furniture removals, vehicle transport, your delicate piano or backloading removals.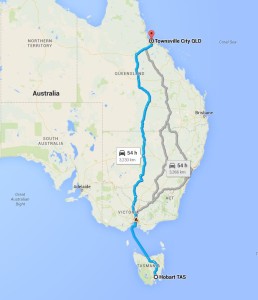 We understand that word of mouth is by far the most powerful advertising and marketing tool, and this is why we take pride in continually providing the best interstate furniture removalist services, to every client, at the best costs possible.
Hobart to Townsville Removalists Reviews:
We were in search of an interstate moving company with little initial knowledge. So all of our searching was done online mostly via Google. We sent off several online quotes and got replies from most. Our initial quote for our 3 bedroom home – United's quote was on average around $300 cheaper than the rest with the most expensive company's charging up to $450-500 more. We never had to catch up or waste any time when making calls or any inquiries as the office staff answered everything immediately. The furniture removalists were excellent, especially the guys on the loading trip were very cooperative and explained the process and answered the questions we had. They showed us how to pack the loose items we had and how to place them. Also they had a friendly attitude so we were satisfied the items were going in good hands which was a big issue for us because of our lack of experience. Everything from the admin to the removalists at loading and drop off was well handled. Plus a good thing was we were able to select any date we wished for the loading so we were able to plan much more easier.
Jayde.
Hobart to Townsville Removalists.
Our Services