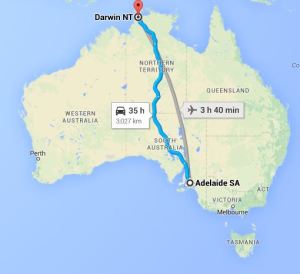 As professional Adelaide to Darwin removalists, it is our foundation of knowledge & experience that gives us the ability to satisfy every clients requirements from start to finish, whether it is furniture removals, vehicle transport, your delicate piano or backloading removals.
We understand that word of mouth is by far the most powerful advertising and marketing tool, and this is why we take pride in continually providing the best interstate furniture removalist services, to every client, at the best costs possible.
Adelaide to Darwin RemovalistReviews:
I found United on the web, just by researching interstate removalists and backloading interstate from Adelaide to Darwin. I was starting to get worried by the quotes I was receiving in which some topped over $5000. The quote from United was extremely competitive – the second best I had received (out of at least 12 companies) but the company who quoted better stated they could not confirm a pick up time, or drop off time or whether they could come at all. They were useless. United was a clear winner. The operations manager was amazing. I was initially so panicked with the whole ordeal of finding an interstate removalist, my original company had let me know only weeks before the move that they weren't coming at all to pick up and we were scheduled to leave – I had spoken to over a dozen companies. It started to feel like no one could do this move but after speaking with United, I was assured the quote wouldn't change (not like other companies), your guys were so professional, polite and courteous, I was overwhelmed by how easy he was making this and how competitive the quote was – I didn't believe it to be honest, it seemed too good to be true. When I ended up being a bag over, he reassured me it was not a problem and did not even charge any extra. Staff were always courteous when contacting me and keeping me up to date throughout the few days of the move – what an effort as I know the driver was dealing with flooding and deadlines. The fellows who came and dropped off were great! So friendly, even whilst busy with the physical lifting and heat, the young fellow stopped to look at a picture my daughter had drawn for the 'removalists'.
The removalist had many unforeseen circumstances to deal with and were consistently professional to deal with. They contacted me a few times to let me know what was happening and always kept me in the loop. They were honest and I could work with that when there was a hold up due to weather conditions and a wrong size storage container. It was easy to be flexible with them as they were friendly and honest. The removalist/driver was a great fellow. He was friendly and helpful. He offered additional services if we needed them post arrival and I could finally accept this wasn't too good to be true. I was truly taken care of. I saved thousands, everyone I dealt with was great and my load arrived in perfect condition. Top effort.
I was worried initially about the delay but due to the removalist keeping in contact and being honest, and the driver working very hard, it was not a problem at all on my end. As I have said, I had companies take my booking and then pull out. I had many companies laugh at me when I gave them my desired dates and my budget for the move. I dealt with so much negativity from other companies, I have already spoken with many family and friends regarding the amazing service with United.
The operations manager was so professional. He was calm, approachable, respectful and delivered exactly what he said he would. The website was quite good. He always returned a call and was always contactable. It was easy to organise the move and create the inventory. Everything went very smoothly as soon as I found you, I wish I had of found you in the very beginning, because you were so flexible and always pleasant to deal with – it was no trouble adding a little extra to the load when I had under listed an extra item.
He allowed me to update and add to the quote and the adjustment was still well under any other companies quote. There was no other comparison to the cost and service this company has offered me. I had researched removalists, backloading companies, train and bus freight, containers and shipping and courier/postal services so I knew what the alternatives were.
The removalists were also wonderful – they were honest, direct, easy to follow and apologetic if need be but it came together perfectly, they went over and beyond to get the load here in time and keep the deadlines. I knew it wasn't easy and to meet the driver, him with a smile on his face. Respectful and friendly – I just cant say enough about how much all of this means to the customer, especially going through the move itself and being considerably busy and stressed. I was looked after so well, you were a saving grace. If everyone was given the same service, they too would be grateful and full of praise.
Thank-you for everything. I have recommended your company due to my positive experiences. Other companies promise so many things but none could have matched the experience I had with your company. When I initially booked, I did not expect much, I was genuinely overwhelmed by the service but still thought that if there was to be an issue with any element of the move, it would have been with the removalist (people had certainly told me their horror stories of an interstate move). BUT, this was not the case for me.
Jacky.
Our Services